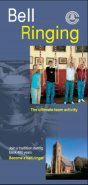 A recruitment leaflet for distribution to the general public was introduced at the 2005 Ringing Roadshow.
Printed copies are available on request from John Harrison by email.
If your requirement is urgent, please say so when requesting leaflets.
You do not need to send cash in advance, but a donation to cover postage and cost of production (approx 3.5p per leaflet) will help us to continue to supply this popular leaflet for local ringers to use.
A PDF version of the leaflet is also available on this website.