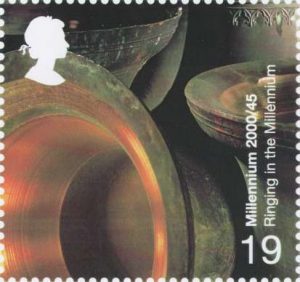 The Royal Mail issued a new postage stamp in the millennium series on 5th December 2000 entitled "Ringing in the Millennium". This is the first time church bells have been featured on a commemorative stamp.
The Central Council of Church Bell Ringers was awarded £3 million (Lottery money) by the Millennium Commission towards 150 bell restoration and augmentation projects across the UK. The "Ringing in the Millennium" project united local groups of bell ringers in projects to celebrate and commemorate the Millennium. The stamp design shows a stunning composition of several bells supported at different angles taken from John Taylor's bell foundry at Loughborough – the largest working bell foundry in the world.
To coincide with this stamp issue, a special first day cover was designed by Adrian Bradbury featuring casting, tuning and hanging church bells and tuning handbells. Each first day cover was franked, by the Royal Mail, with a special John Taylor's Loughborough postmark.
Over £2,000 was raised for the Central Council Bell Restoration Fund by this offer.
(February 22, 2001)