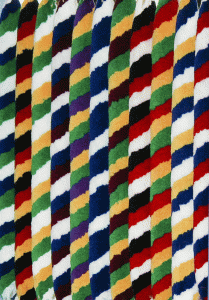 This is the sixth puzzle we have commissioned from the Wentworth Wooden Jigsaw Company, as a way of raising funds for the CCCBR Bell Restoration Fund.
The colourful picture of chiming ropes appeared on the front page of The RW on 30 September 2005. It was photographed by Anthony Bianco on the Ellis Ropes stand at the Newbury RoadShow – our thanks to both of them for permission to make this puzzle.
Some ringers have found previous puzzles too easy – not so this time!
Accept the challenge and when finished you will feel you've had your money's worth …
To obtain the best colour image, Wentworths have recommended that the puzzle be mounted on plywood, which is more expensive. However, we have kept the price the same as last year. Measurements: 250mm x 360mm (10″ x 14″) and 250 pieces.
Wentworth has the 'cutting edge' in the jigsaw market place and uses lasers to make the intricate shapes. We have chosen a new cut this year, but there are pieces with straight edges inside the puzzle and fourteen special ones known as 'whimsies' to add to the fun. "Whimsies" were so-called because Victorian puzzles cutters included such shapes 'on a whim' and Wentworths have revived this tradition.
"Sallies" is a high quality product and includes church related shapes to challenge, intrigue, frustrate and confuse. AN IDEAL GIFT.
SOLD OUT (10th Nov 2017)