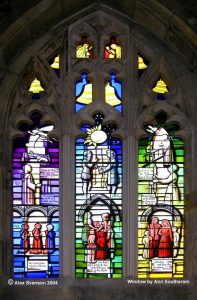 25 September 2009: NOW SOLD OUT

Judging by the success of raising funds for the CCCBR Bell Restoration Fund, many ringers seem to enjoy doing jigsaw puzzles and/or buying them as gifts.
So, we have commissioned our fifth one from Wentworths and are delighted to record our thanks to the artist and designer, Ann Southeran, and photographer, Alex Svenson, for allowing this jigsaw puzzle to be made. The interesting picture was featured on the front page of The RW on 31 December 2004, together with an article by K B Sissons.
The window comprises three vertical columns over which a lattice arch is mounted. The arch contains various images of down facing bells. The western vertical shows a figure clasping the sally, the centre column depicts two figures holding the sally and the tail ends and the eastern column portrays the annunciation. Arranged throughout the window are the names of different methods, such as Sherburn Surprise, Yorkshire, Stedman, Grandsire and Bob Major.
The Wentworth Wooden Jigsaw Company creates jigsaws for those who do the picture first and the edge at the end! It can take less time than a peal to complete, if you want to that is. There are about 250 pieces measuring 250mm x 360mm (10″ x 14″) when complete, so it is unlikely to clutter your dining room table for long, although you might want to frame it when it is finished.
Wentworth has the 'cutting edge' in the jigsaw market place and uses lasers to make the intricate shapes. There are pieces with straight edges inside the puzzle and sixteen special ones known as 'whimsies' to add to the fun. "Whimsies" were so-called because Victorian puzzles cutters included such shapes 'on a whim' and Wentworths have revived this tradition.
"Sherburn-in-Elmet Ringers' Window" is a high quality product and includes church related shapes to challenge, intrigue, frustrate and confuse.