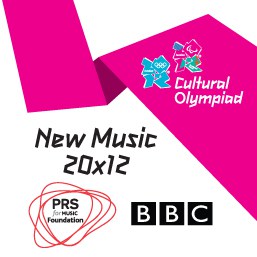 The Central Council's early engagement with the Cultural Olympiad led to the award in December 2010 of funding for a new music composition to mark the 2012 Olympic Games. This is one of only 20 pieces selected by the New Music 20X12 project, to be performed throughout 2012, particularly for Olympic-related events such as the torch relay during the 70 days before the Opening ceremony. All 20 pieces will also be performed over the weekend of July 14/15 at the Southbank Centre.
New Music 20×12 is a UK wide commissioning programme initiated by Jillian Barker and David Cohen, and delivered by PRS for Music Foundation in partnership with the BBC, The London Organising Committee of the Olympic Games and Paralympic Games, Sound and Music and NMC Recordings. Special thanks to RVW Trust for making this New Music 20×12 commission possible.
Five Rings Triples
The piece of music which Howard Skempton composed for ringers consists of a 3-course touch of Five Rings Triples — a brilliant adaptation of the concept of a change ringing method which emerged from the process he describes in this video. The name associates the sets of five blows made by the Treble with the five Olympic Rings.
The official first performance of Five Rings Triples at Kingston upon Thames was at midnight at New Year 2012. Shortly after midnight BBC Radio 3 broadcast a recording of what was the first performance of any of the twenty New Music 20X12 pieces.
Five Rings Doubles
Matt Dawson has created a Doubles variant of Five Rings Triples. Howard Skempton is delighted, as is the Central Council, that more ringers are keen to participate and he has approved the use of the name Five Rings Doubles. Inevitably with so few bells, it runs false even in the plain course, but we hope ringers at five and six bell towers will enjoy ringing it for the Olympic celebrations.
Performances
We hope many other bands will ring Five Rings Triples throughout 2012, especially when the Olympic Torch Relay is in your vicinity.
Please email us to let us know when you perform Five Rings Triples (or Five Rings Doubles) for inclusion on this website along with other performances.
Please advertise your performance beforehand, so that people will know what you are ringing, and why. Please also tell us what you are planning.